I have a confession to make. I really get a kick out of watching Infomercials, especially the ones about products that have to do with the home (kitchen gadgets, cleaning gadgets, and furniture-related items).
Mike doesn't share my enthusiasm for Infomercials (I suppose few people do) ... except for ... the Infomercial on the 9-minute Marinator!
So last weekend, I decided to bite the bullet and shell out the money for an early boyfriend-girlfriend anniversary gift for my husband. And I ordered it. It was the first time I'd ever ordered something from an Infomercial.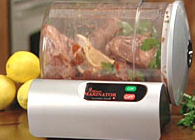 (While looking for the above picture, I got jealous when I found out that the Canadian company that sells it offers a chopper and two vacuum-seal food canisters along with the marinator! The only thing that comes after "And wait, there's more!" on the Philippine version of the Infomercial is a pair of bendable chopping boards. Grrr.)
It arrived at home yesterday.
So last night we made tuna steaks. We threw in some lemon juice, butter, salt, and pepper along with the tuna, in the Marinator for 5 minutes, and grilled the tuna on our electric grille.
Tonight we'll try real steaks.
Yummm ..... I can't wait to get home.
Find other people blogging about:
cooking+gadgets