Mike made a yummy spaghetti and meatballs dish for dinner.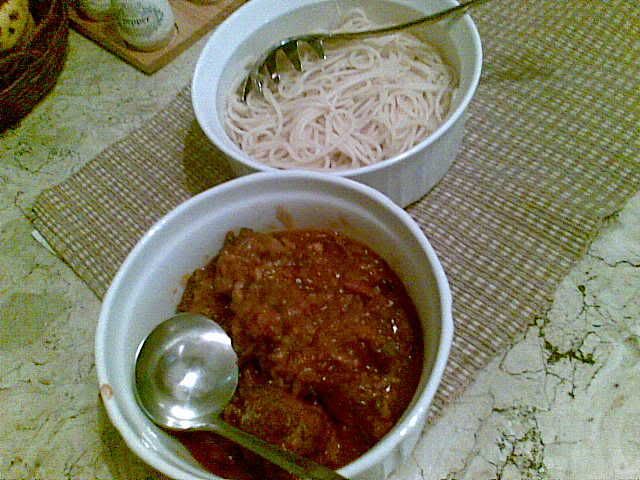 Meatballs:
250 g lean ground beef
whites of 2 eggs, slightly beaten
3/4 cup breadcrumbs
1/4 tsp dried oregano
1/4 tsp dried basil
1/2 tsp ground allspice
pepper, to taste
garlic salt, to taste
1 native onion, finely chopped
3 cloves native garlic, ground
cooking oil
Sauce:
1 pack ready-made tomato spaghetti sauce (we used Del Monte)
1 slice of cooked double-back bacon, finely chopped (we used Earl's)
2 native onions, finely chopped
1/4 tsp dried basil
olive oil
In a mixing bowl, mix the breadcrumbs with the egg whites. Mix in the lean ground beef, allspice, pepper, garlic salt, and garlic. Mix well. Form meatballs. Sprinkle dried oregano and basil on the meatballs.
In a pan or wok, fry meatballs in oil until browned on all sides, about 5 to 6 minutes. Lay on a paper towel to drain oil.
Boil water for the pasta. While waiting for water to reach rolling boil, prepare the sauce separately. Heat olive oil in a separate saucepan. Add onions and allow them to caramelize. Add bacon until warm. Pour in spaghetti sauce. Allow to simmer for around 20 minutes, stirring from time to time to prevent bacon from scorching. Add dried basil. If sauce gets too thick, add a little water (not more than 1/4 cup at a time) and mix well. Add meatballs and allow to simmer for another 5 to 10 minutes to make sure that meatballs are cooked through.
Prepare pasta according to directions. Drain.
Serve spaghetti topped with sauce and meatballs. Sprinkle with grated parmesan cheese.
A yummy classic!
Find other people blogging about:
spaghetti+meatballs