The following is recipe based on one from
FoodNetwork.com
.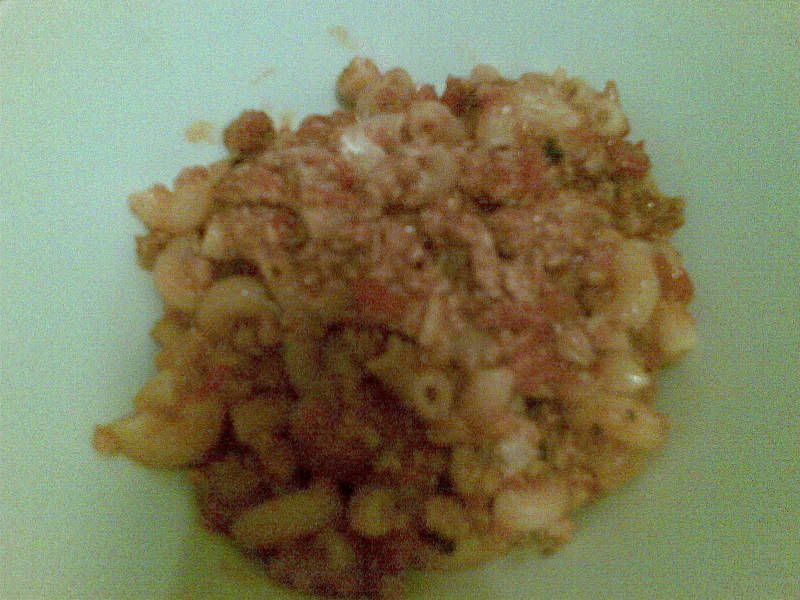 Sorry for the blurred photo. This is just 1 serving, by the way. The recipe is double this.
250 g lean ground beef
1 native onion, chopped
2 cloves garlic, chopped
1 cup water
1 (15-ounce) can tomatoes, diced, together with the tomato juice
1/2 cup tomato sauce
dried basil
dried oregano
dried parsley
garlic powder
dried thyme
dried rosemary
garlic powder
salt
pepper
Tabasco
1 tsp soy sauce
1-1/2 cups elbow macaroni, uncooked
parmesan cheese
In a deep pot, saute the ground beef over medium-high heat, breaking up the meat, until no pink remains. (We sauteed ours in olive oil because our ground beef was very very lean.) Add the onions and garlic to the pot and saute until they are tender (about 3 minutes). Add water, along with the tomatoes, tomato sauce, tomato juice, soy sauce. Season with dried herbs, garlic powder, salt, pepper, and Tabasco. Stir well. Place a lid on the pot and allow this to cook for 15 to 20 minutes.
Add the elbow macaroni, stir well, return the lid to the pot, and simmer for about 30 minutes. Top with parmesan cheese when serving.
Serves 2.
Not bad, but it needed more kick. Next time we'll try to put more spiciness--more Tabasco, or chilli flakes perhaps. And maybe more garlic. Before I poured in the elbow macaroni, the dish looked a little watery to me, and I made the mistake of leaving the lid slightly ajar. Twenty-five minutes later, the water was all gone and the macaroni almost burned, so I realize I should've followed the recipe and left the lid on, as instructed. The resulting dish was also a little "bitin" -- I think I'll add more macaroni next time.
Find other people blogging about:
American+goulash