Mike and I discovered a new cafe/restaurant today. When I say "new" I mean this quite literally; today was its soft opening.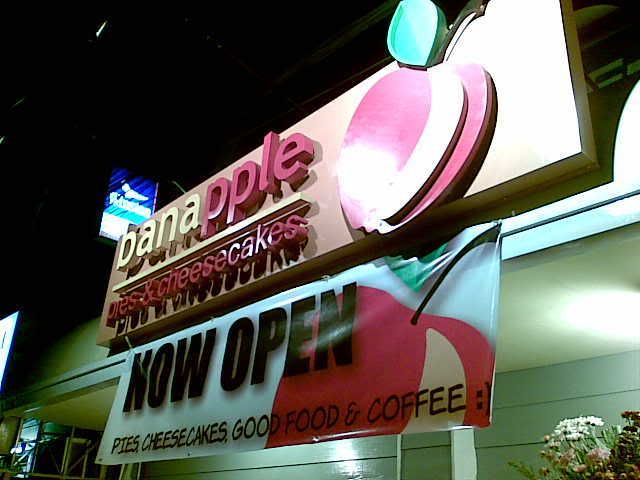 The place is called Banapple and it's along Katipunan Avenue, on the southbound side after the flyover, right across the street from Kopi Roti. (For those of you familiar with the area, it's where City Jam used to be.) The owners--a friendly 30-something couple--had run a home-based cake business for years, and when the orders became too much for their house to handle, they decided to rent space not just for a commissary but for their own restaurant!
The interior is painted cheery shades of yellow and orange. On a refrigerated shelf, some ten to twelve cakes and pies--all looking quite scrumptious--are on display. Mike and I split an herbed chicken roll with basil cream sauce for dinner, and an apple caramel crumble for dessert.
The entree was very good and very filling for its price (P145). The apple pie slice (P75) was huge. The owner very kindly offered to warm it up for us, and we were very happy with the taste.
While its cakes and pies seem to be Banapple's centerpiece items, it also serves pancakes, sandwiches, pasta, and other rice entrees. I definitely recommend this place to anyone looking for a good meal in the P100-P200 price range.
Find other people blogging about:
restaurant+reviews