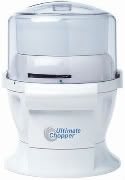 Apologies for the looooong absence. I stopped cooking in the latter part of my pregnancy and left all the cooking to Mike. Mike on the other hand started cooking everyday, but since he never writes anything down and just makes things up as he goes along, it wasn't easy to record his recipes for posting here.
I'll start of the year, however, by raving about Mike's second favorite kitchen gadget (next to the
9-Minute Marinator
),
the Ultimate Chopper
. (Yes, we have become TV shopping fans!) I ought to mention that the product was actually recalled in the US because when the locking mechanism ceases to work, the product is no longer safe. But we figured that as long as the locking mechanism is still working, there ought not to be any reason to worry.
Just like the infomercial suggests, we've used the Ultimate Chopper for various things. We tried making ice cream once, and it was cool to eat our own ice cream! But our regular uses for the Ultimate Chopper are: grinding coffee beans, chopping onions (no more tears!), and making cream cheese-based spreads. As the infomercial says, because the device is small enough to sit on your counter, you actually use it (unlike a complex food processor which you need to take out of its storage cabinet). Our only complaint is that the chopper bowl really is on the small side, so you can only put in a little bit of food at a time.
How often do we use the Ultimate Chopper? At least twice a week. I guess that's proof enough of how happy we are with this kitchen gadget.
Find other people blogging about:
kitchen gadgets