I've only really been cooking for six months (save for a
very
short cooking obsession when I was in second year high school), so I'm no expert on cookbooks.
But of the seven or eight cookbooks in my collection, the most reliable, by far, in terms of the taste of its recipes and the ease of their execution, is the
Assumption High School Class of '79 Cookbook
.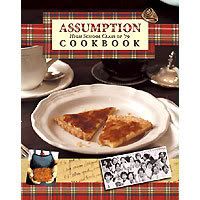 I highly recommend this cookbook for beginner-cooks in the Philippines.
Since the recipes come from various sources, there is a good variety of them.
The ingredients of almost all the recipes are easy to find in the Philippines (unlike the recipes in a lot of foreign cookbooks, which have me turning to my laptop every few minutes to look for substitute ingredients).
Most of the recipes are easy enough for a beginner to attempt, and there are one or two more complex ones for savvier cooks.
And so far, the batting average has been very good: Mike and I have raved about almost all the recipes we've tried, save for one which wasn't too bad, just a bit bland for our taste. (I won't say which one it is.)
So if you need a last-minute Christmas gift for someone who is beginning to venture into the kitchen, trust me, this is a good one! (Hmm, I should get paid for this plug, haha!)
Find other people blogging about:
cookbooks