Mike ordered a bottle of mesquite powder from my mom in the US. The big bottle arrived a few days ago.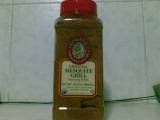 For dinner this evening Mike made this incredibly simple but incredibly flavorful dish.
Ingredients:
260 grams ground beef
1 tbsp mesquite powder
1 tbsp sugar
1/2 onion, finely chopped
1-1/2 tbsp breadcrumbs
1 small egg
Mix all ingredients together. Form into hamburger patties. Grill or pan-fry until cooked. Serve!
Serves 2.
Cooking and preparation time: 15 to 20 minutes