We have a relatively new oven that we haven't used much, so today I wanted to experiment with it. I also had a jar of sunflower honey from Baguio, that I hadn't opened, so I decided to try an old classic: honey-mustard chicken. Below is the recipe I came up with. I actually wanted to use tarragon instead of basil but we're all out.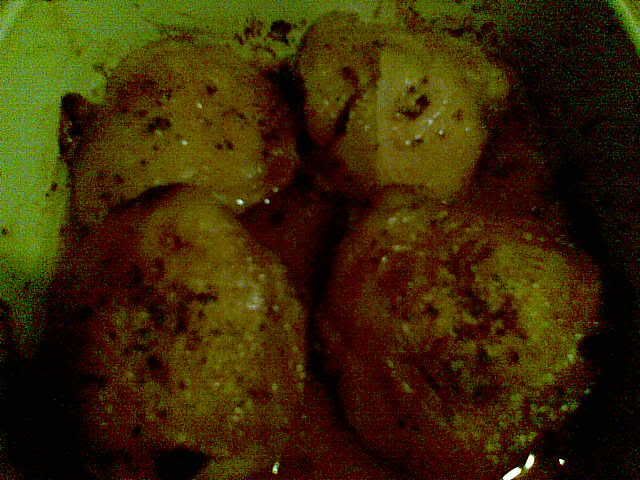 7 chicken thighs, washed and patted dry
2 tbsp butter or margarine
2 tbsp mustard
3 tbsp honey
1 tsp Worcestershire sauce
juice and rind from one small lemon
1/2 tsp garlic salt
1/4 tsp ground pepper
1/4 tsp dried basil
Preheat oven to 350 degrees Farenheit.
In a saucepan, combine over low heat the butter, mustard, honey, garlic salt, Worcestershire sauce and ground pepper until the butter melts. Mix well. Remove from heat then slowly mix in the lemon juice and rind.
Place the chicken thighs skin-side down in a greased oven-safe dish. Brush chicken with sauce. Bake covered for 30 minutes.
Remove chicken thighs from oven. Turn them over, skin-side up. Brush chicken with the remainder of the sauce. Sprinkle basil on the chicken. Return to oven and bake uncovered for another 30 minutes. For a healthier meal, pour out and throw away the drippings before serving.
Serves 3.
Preparation time: 20 minutes Cooking time: 1 hour
Calorie count: approx. 500 calories per serving
Verdict: It was yummy but we had to keep some extra sauce on the side to dip the chicken into as we went along. Next time I think I'll actually marinate the chicken instead of just brushing the sauce on it, for more flavor. Mike also suggested adding something to the sauce to give it an extra kick; I think I'll add some chili garlic next time for a little bit of spice.
Find other people blogging about:
honey+mustard+chicken