It's Mike's birthday today, but he's ill (as am I) so we weren't in the mood to go out for lunch. So instead we stayed home and I finally tried my hand at Korean barbecue.

At Korean barbecue restaurants, we always have beef or pork (kalbi), but we haven't gone to the supermarket, and the only thing in our freezer was a packet of chicken thighs. We didn't have lettuce leaves either, but yesterday I had bought some kim (Korean nori) along with some Korean beanpaste at a Korean convenience store at Market Market, so for this recipe we used the kim instead.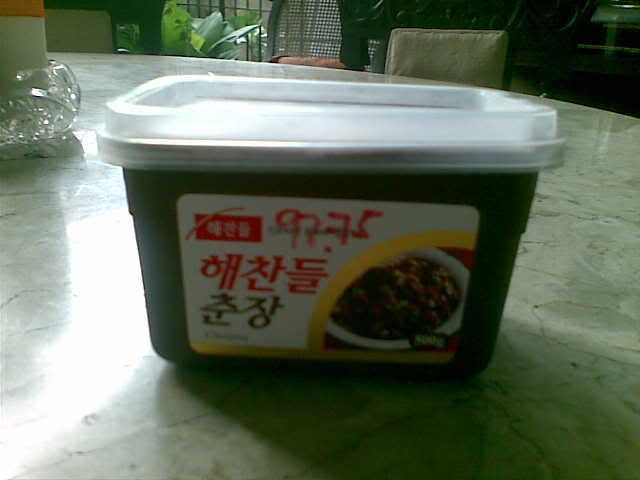 A tub of chunjang (Korean black bean paste)

With all these ingredients on hand, I went online to look for ideas as to how to make a Korean barbecue out of the ingredients I had on hand and this is what I came up with. This recipe serves 2.
Ingredients:
5 chicken thighs, deboned and deskinned
kim (Korean nori), cut into sheets measuring approximately 4" x 5"
3 cloves garlic
2 green chili peppers, sliced into slivers
sesame oil
steamed rice (one bowl per person)
Seasoning:
2 tbsp rice wine
1 tsp minced ginger
1 tbsp minced garlic
1 tbsp soy sauce
1 tbsp sugar
1 tsp pepper
1/2 onion, finely chopped
1/4 tsp chili powder
Dip:
sesame oil
salt
pepper
Korean black bean paste (chunjang/jajang)
Method:
Slice the chicken into strips. Marinate first in the rice wine and minced ginger for about 15 minutes. Then transfer to a separate bowl and mix well with the other marinade ingredients. Marinate for at least half an hour.
Put about a tsp of sesame oil on the electric grill. Grill the garlic and green peppers. When cooked, remove from grill and transfer to a plate. Grill the chicken on the same grill. When cooked, place the slices of grilled chicken on top of the garlic and green peppers.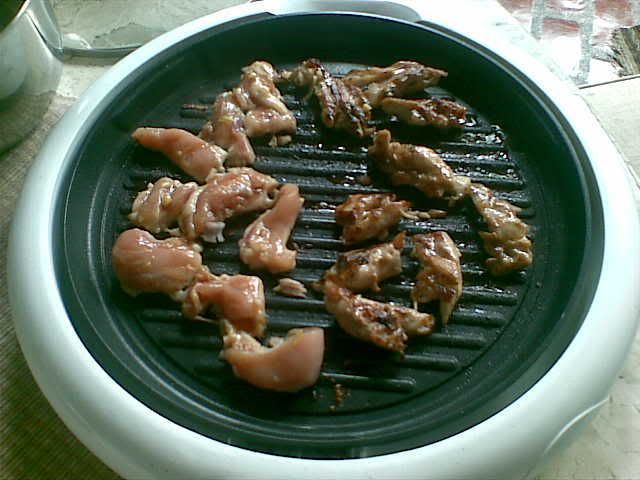 Prepare bowls of dip for each person. In one small bowl put about two tbsp of sesame oil, a pinch of salt, and around 1/4 tsp of ground pepper. In another small bowl, put 1 tsp of Korean black bean paste.
When the chicken is done, dip a slice of chicken into the sesame oil dip, put it on a sheet of kim together with a small amount of rice, and roll the kim. Dip the whole roll in the bean paste and eat!
Serves 2.
Verdict: It all came out quite yummy, although I'm sure the rolling process would've been less messy if we had used lettuce leaves instead of the tiny sheets of kim. But we were both very pleased with our meal, nonetheless.
Find other people blogging about:
korean+barbecue